Games by the Sea was a fun party for fun people that ran between 2013 and 2018 during the Develop conference in Brighton, UK. Here's a big old overview, history and list of games we showed each year.
Spaff, Edd, Alice and Alex
Games by the Sea (GbtS from here on out) was started by myself, James Spafford (aka Spaff) and Alice Liang. It was started as an antidote to the boring award show, boring corporate parties and lack of events with actual games at a video game conference.
Our freind Alex was already hosting a small party each year for indies so we approached him in 2012 or so with the pitch that if he gives us the money that his company (Sheridans) usually puts behind the bar, then we'll find an awesome venue and organise everything for him! Being local to Brighton, we knew some cool spaces that would have enough room for games and fun that weren't crappy bars.
GbtS was deeply inspired by other rad parties thrown by friends, Wild Rumpus and Juegos Rancheros.
With Spaff and Alice having moved to San Francisco to take up jobs at Double Fine and Unity, and myself having moved to Taiwan, it's time to retire Games by the Sea. It was an excellent six years and I'm increadibly proud of what we achieved, the amount of games and artists we were able to shine a spotlight on, and the fun and excitement we brought to an otherwise (imho) fairly dreary game development conference.
A huge thanks to everyone that ever came to one of our events. We put them on for you, it was excellent to be able to give you a nice time.
And if you didn't get it by now, the Sea in GbtS stands for Spaff, Edd and Alice (or Someone, Edd and Alex) 😆
Peace out, girl scouts! Edd, Jan. 2019.
July 10th 2013 - Pub du Vin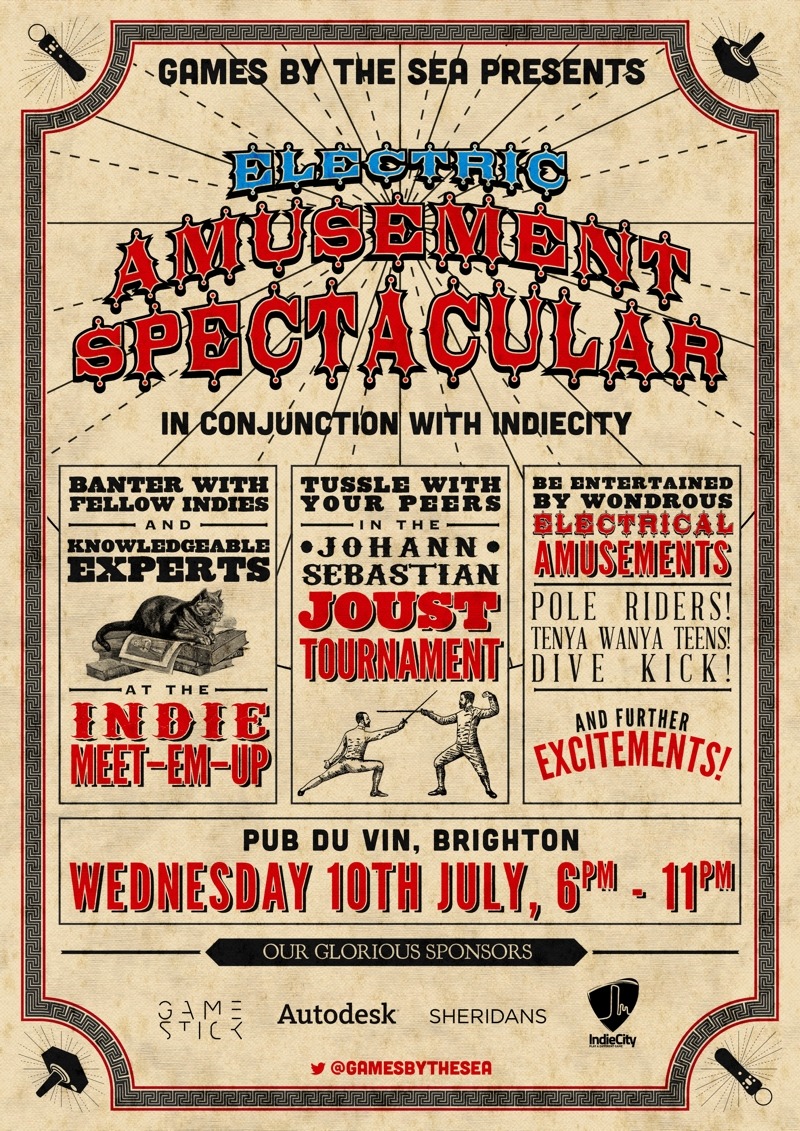 Artwork
Notes
The first GbtS went pretty well. All I can really remember is having a massive panic attack and having to leave for about half an hour and get some fresh air on the seafront, I think Alice and Spaff pretty much ran this one 😅
I was pretty stoked about showing Dive Kick as it was the first time it was shown in Europe (I believe) :)
Tom's poster art is great, we were going for some kind of victorian thing, being in the fancy Pub du Vin and all.
July 9th 2014 - Pub du Vin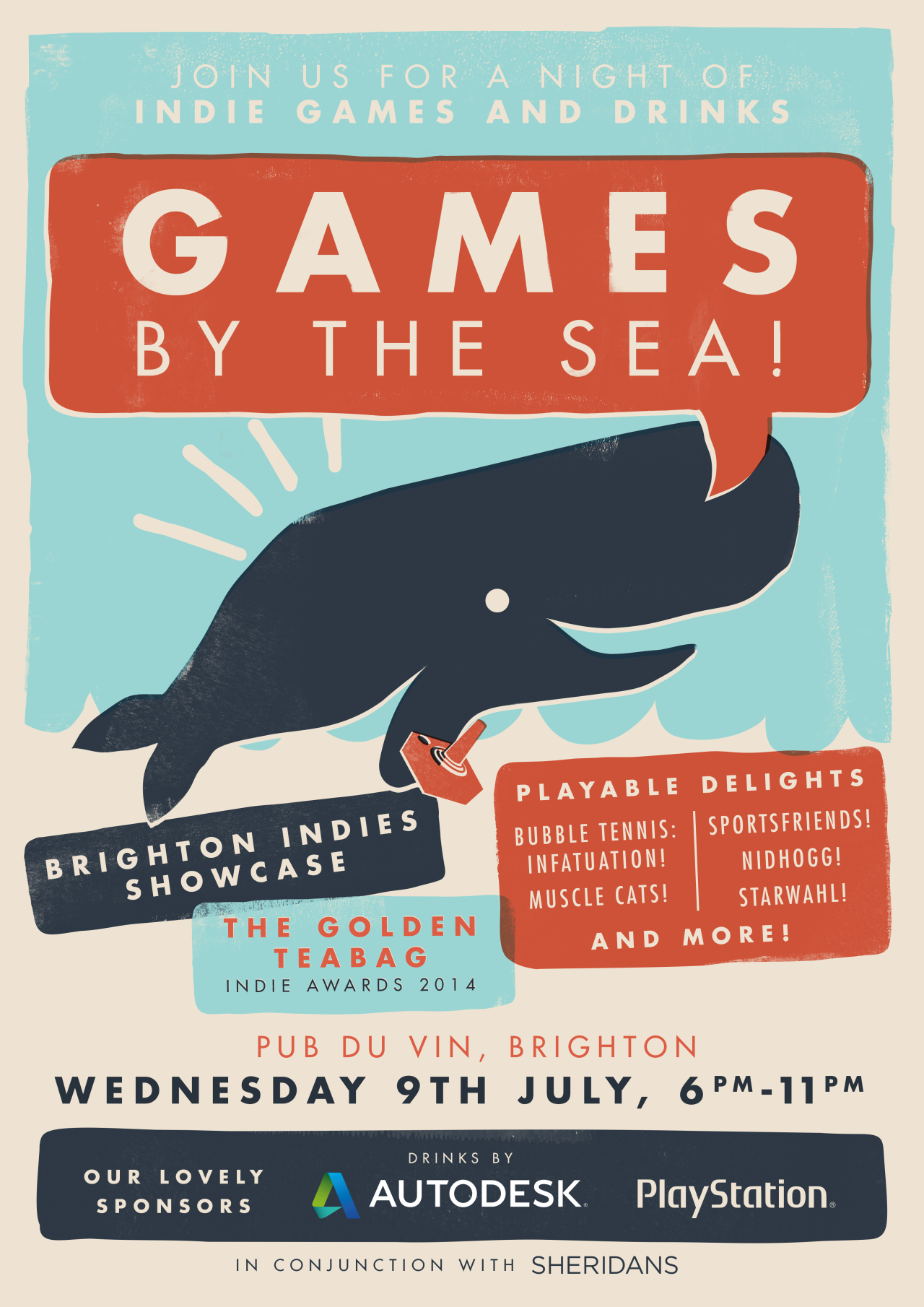 Artwork
Martin Taylor - Twitter
Notes
2014 was the first year to introduce the whale. I don't think we told Martin to do a cool whale, but he did and we had one on the poster for all the following years.
The first year to feature the indomitable Gang Beasts! I first saw this on a Giant Bomb stream and thought it looked rad, so I found out who made it and dropped them an email to see if they'd let us show it. The reply from James at Boneloaf was excellent, not only would they let us show it, but they would come down with a big computer to run it on and 8 controllers!
I think this was also the first year we ran a raffle, the top prize was a PS4 kindly donated by Sony!
This year we had a nice Brighton Indies showcase, so show off some of the local talent. I cannot for the life of me remember who was there though!
This was also the year that I foolishly thought I would make a game for the event too. Never again! Still, I did manage to finish Bubble Tennis: Infatuation, a game about muscle folks (there were a lot of muscles this year) batting a beach ball back and forth on the beach. It even got a write up on RPS!
We were also joined by Alistair Aitcheson. Alistair specialises in creating wacky and cool games using all different sorts of controllers. This year he showed Tap Happy Sabotage, "A party game for 2-20 players on one giant touchscreen, where foul play is encouraged!"
If I recall this was also the last year to feature Joust, as a colleague managed to break his foot during a rather high spirited game! We retired it after that incase of any law suits :s
July 15th 2015 - Pub du Vin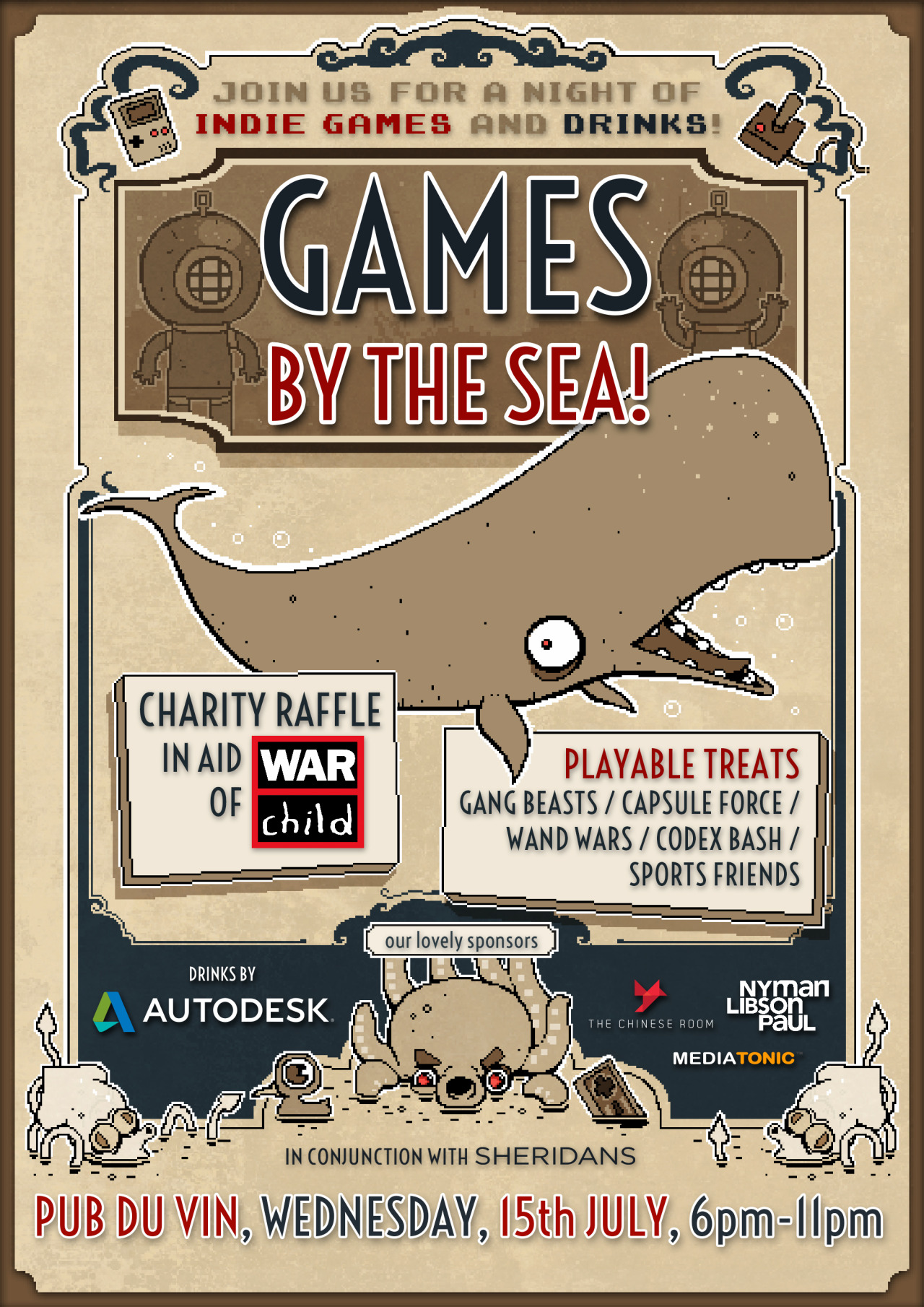 Artwork
Gregor Kari - ArtStation
Notes
This was the first year I ran GbtS without James and Alice and boy was I terrified! I don't think anything was ready when people turned up as we had issues showing stuff on PS4 and ended up having to redownload all the games over mobile data.
We were also joined by Alistair Aitcheson again. He showed Codex Bash which uses a bunch of giant buttons all spaced far apart, and has you cracking codes with teamwork and physical exhaustion!
Great pixel art from Gregor, I love the mencing octorock and how derpy the whale is!
We also got a nice shoutout in Vice :D
July 13th 2016 - Pub du Vin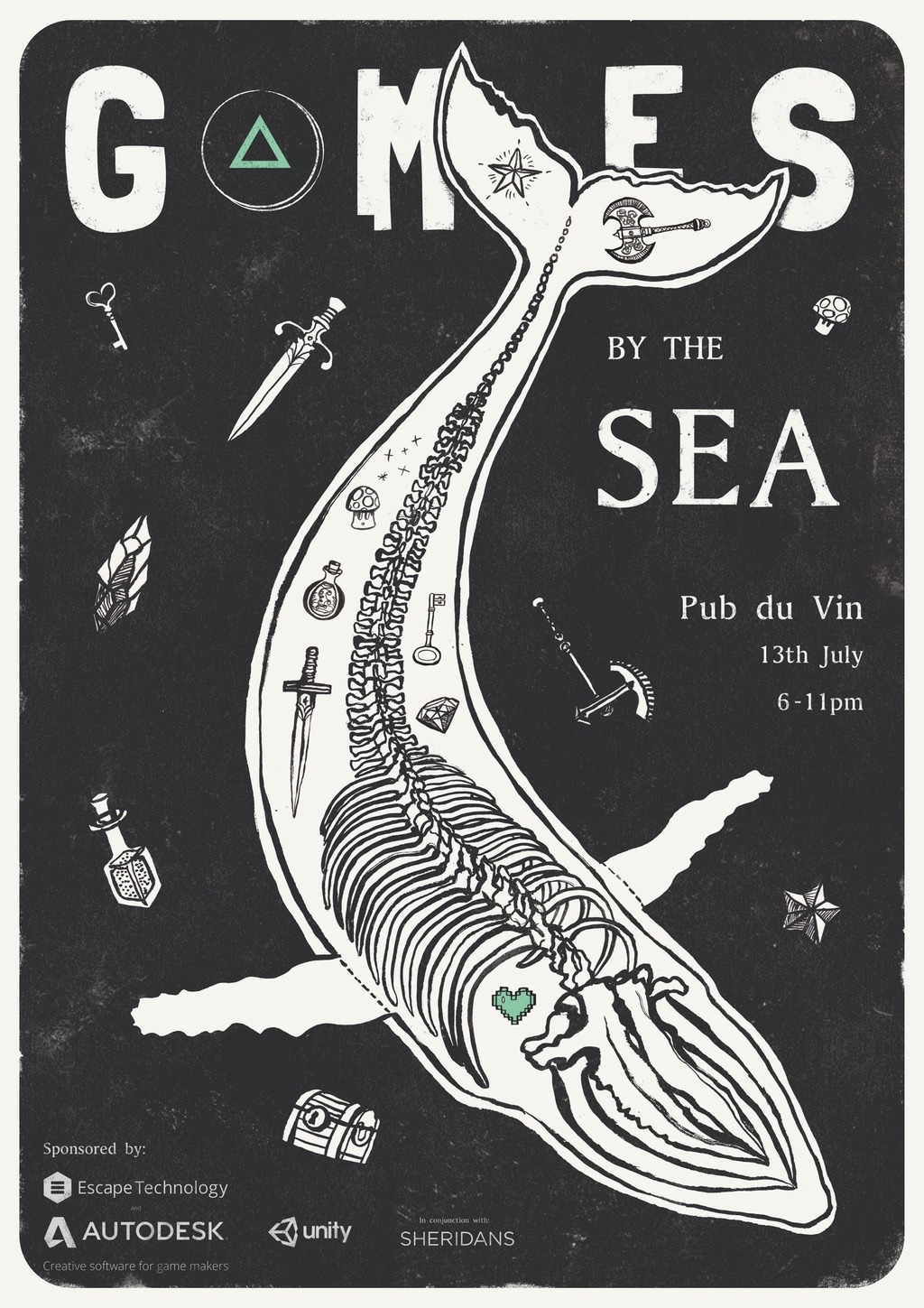 Artwork
(Good) Alice Parsons - Website Behance
Notes
I remember being pretty stoked to show Overcooked before release, a game that has gone on to do gang busters. Needless to say it was a huge hit at the party.
Tim Davies started helping out this year, making sure things weren't on fire or stolen and doing a stellar job at selling raffle tickets!
Other than that I remember very little of this one 🤷‍
I love Alice's poster, completely different from previous years which is exactly why I approached her 👍
July 12th 2017 - Harbour Hotel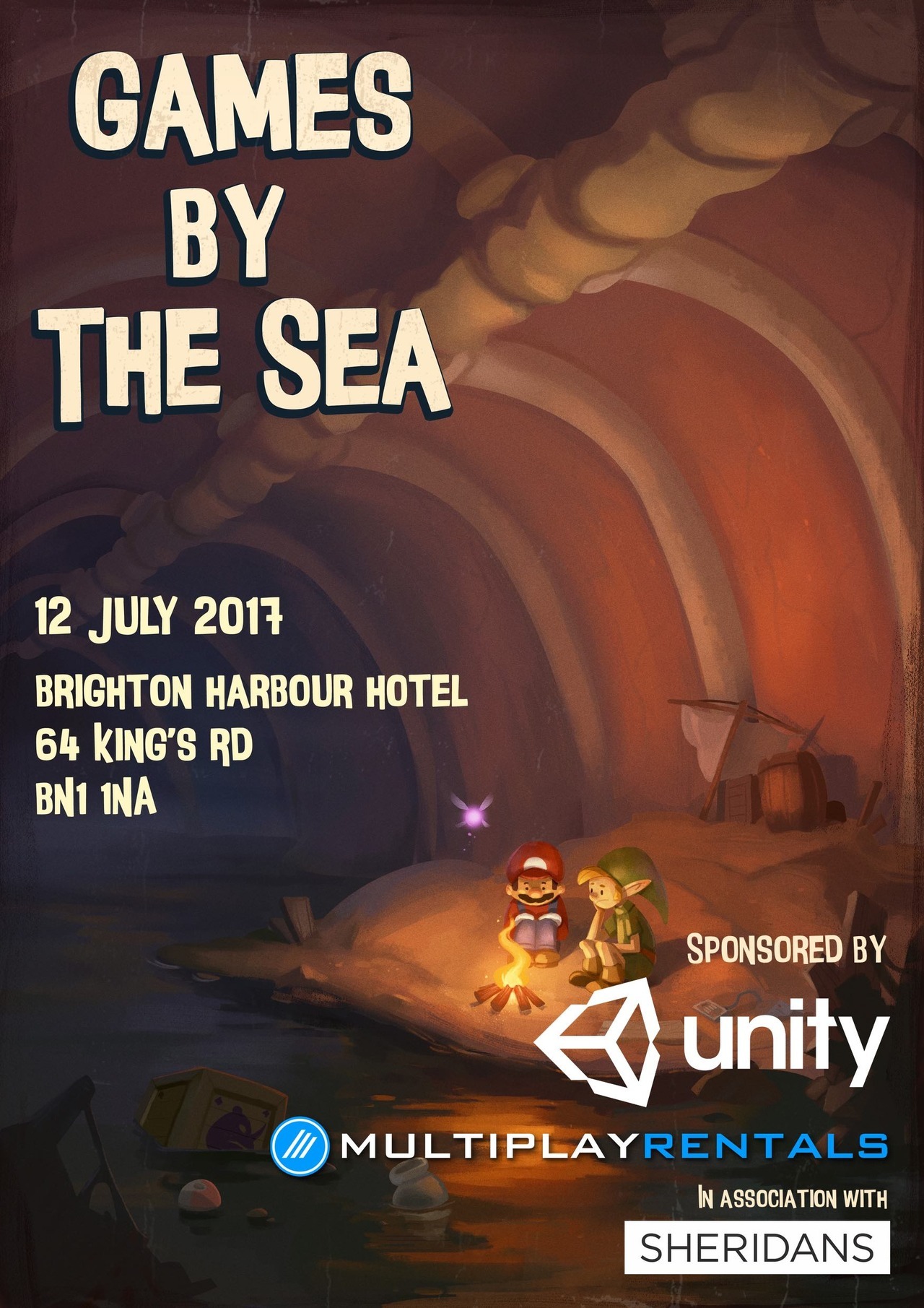 Artwork
Monica Ion - Twitter ArtStation
Notes
What a great line up! Super happy we were abke to show Multibowl because that game is nuts! Sausage Sports Club is excellent physicsy madness and Chalo Chalo is excellent slooooowwwww racing!
This was first change in venue after we were poached from PdV by the exiting events co-ordinator, who had moved to the Harbour Hotel. It was a really nice space, but kinda odd because we were split across the main function room and the bar. The function room got packed and I don't think most people even knew there was another bar. A pain to keep track of numbers but the surroundings were nice (they have an amazing underground spa!).
There is something beautiful and meloncholic about Mon's poster. Mario and Link shipwrecked inside the belly of a whale, maybe it will be Peach and Zelda who rescue them this time!
July 11th 2018 - C:\Side Quest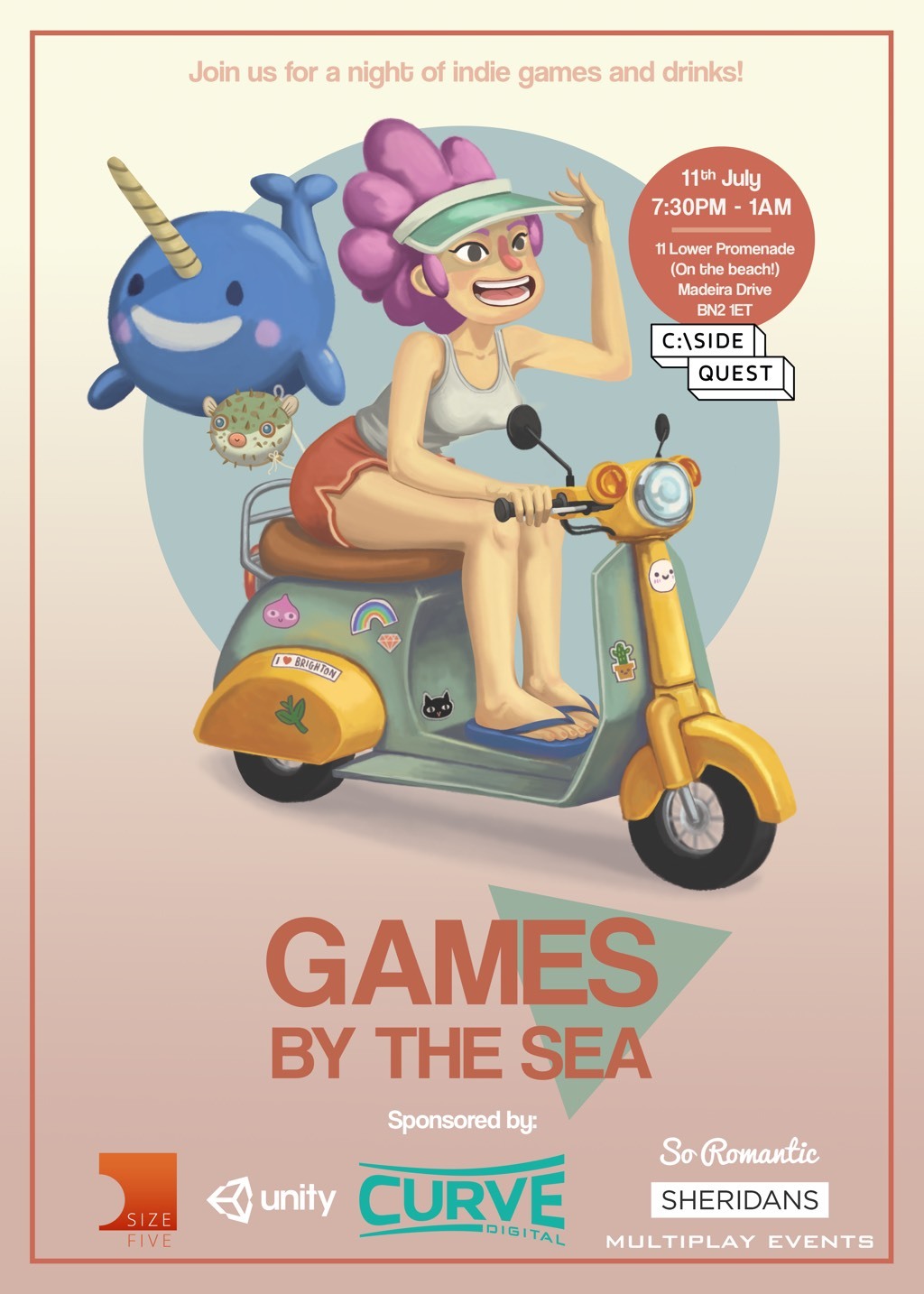 Artwork
Notes
2018 was super weird because the world cup was on at the same time so we had to contend with that, which meant we didnt really show any games until 9:30/10 when that finished. We also moved venue again to the recently opened C:\Side Quest board game cafe and bar. We'd actually been eyeing the venue in 2017 but it wasn't ready to open in time.
Still the weather was nice, and it was right on the beach, so that was nice :D
Cao-Hsin's art is aces, I love how happy that big narwhal is… he's only one letter off being a whale, so I'll take it!
Last updated : 25-02-2019